One of my newest clients is a Fashion Blogger, Kierra of Naturally Far Out.  I was thrilled when she contacted me about wanting to hire me to photograph her for her blog.  She definitely has a great eye for fashion.
Keep reading for the low down.  You can find her fashion blog page over at http://naturallyfarout.com/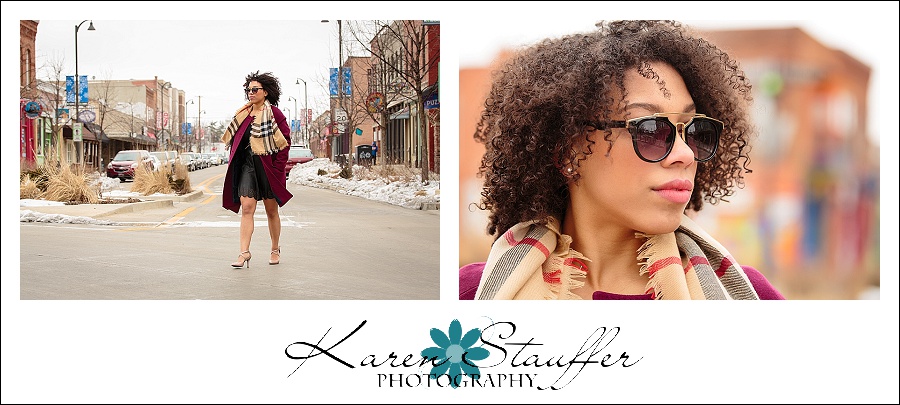 1. Can you tell our readers about yourself and your blog?
My name is Kierra and I am the fashion blogger of Naturally Far Out. I have recently graduated from Iowa State University with a Bachelors degree in Apparel Merchandising and Design. I started my blog a week after graduation and have been blogging ever since.
2. Who has impacted/ inspired you to start a fashion blogging?
Well I had a friend that was a blogger and she started explaining everything to me and how it worked. I seemed to become more and more interested as the semester ended and graduation happen. I started doing my research and it just all fell into place. I would say my boyfriend Michael impacted/inspired me to start my fashion blog. He was even doing a little research himself and said he would take my photos for me when he could.
3.What do you think is the best service a blogger can provide to their readers?
I feel the best service a blogger can provide to their readers is confidence, style tips, and encouragement. It is good to show your confidence as a fashion blogger. It has lead me to inspire others through the way I dress and that is so rewarding.
4. How do you manage time to run your blog efficiently?
I make it a priority. I make it my new kind of school work and now that I have graduated, I have my blog to keep the school work rolling in.
5. Where would you like to be in blogging five years from now?
I would like to be a full-time fashion blogger and have many other fashion endeavors.
6. How do you motivate yourself to keep the blog up and running?
I research a lot. I look up other inspiring fashion bloggers that have been doing it for years.
7. In the future where do you hope your blog will take you?
I hope it takes me to heights I can't even imagine. It has already taken me to many places I would of never thought to experience. I think of new ideas all the time and I want nothing more then to accomplish all of them.
8. Have you met anyone interesting/famous on your blogging journey?
Every fashion blogger is interesting to me. I love instagram, it is the best kind of social media because you can connect with so many other like-minded individuals. We all encourage and support each other.
9. Did you have any professional help or did you created the blog yourself?
I created my blog myself. No professional help necessary. My boyfriend Michael did help me get things set up and put together. I must say it does feel good to have created it from scratch and will make changes as time goes on.
10. How active are you on a weekly basis? How often do you communicate with your followers? How much time do you spend blogging?
I am active on the daily, on my blog, and on all my social media platforms. I love to communicate with others and always want to give my supporters and readers my attention. I appreciate people taking time out of their day to ask me a question or to say something nice. I would say I spend about 25 + hours a week. 11. Would you encourage other people to start a blog? I do all the time. I know how blogging makes me feel and I seriously would love others to feel the same. It doesn't have to be a fashion blog but it would be about anything that is your interest.